UK Government Budget 2020: What does it mean for Wales?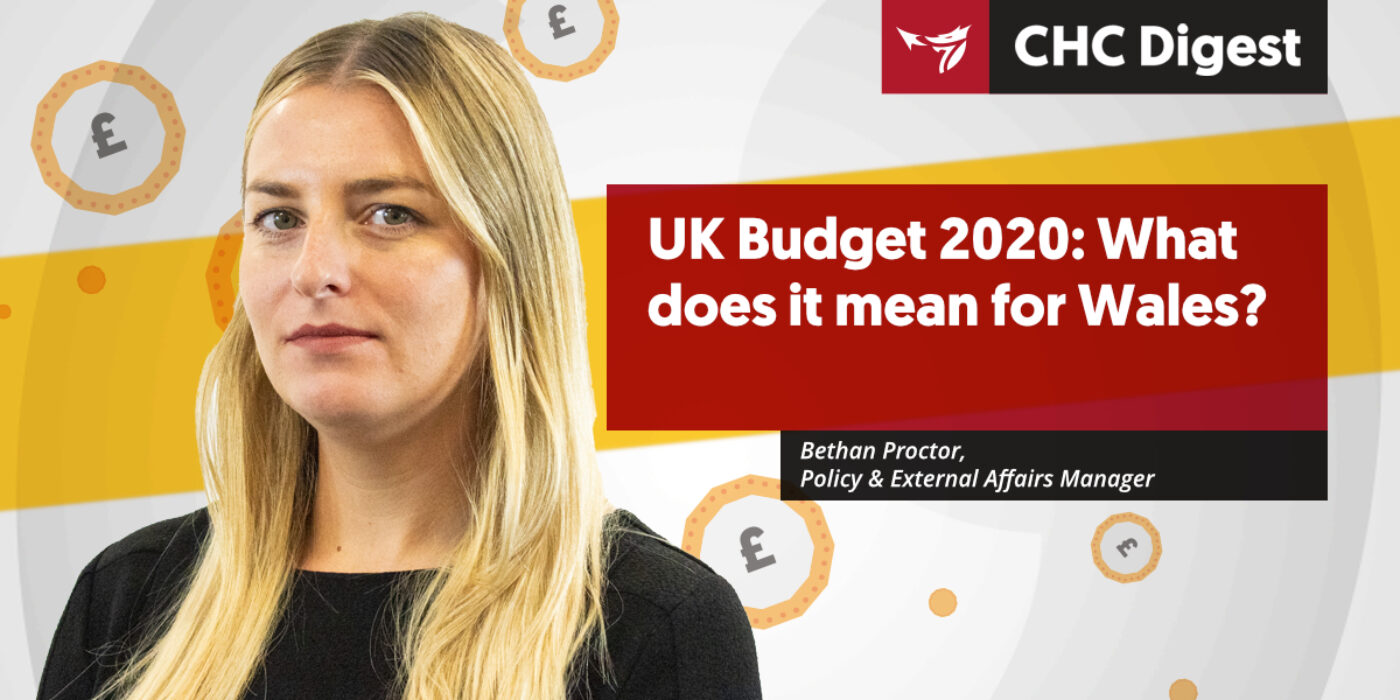 After less than a month in post, the Chancellor Rishi Sunak delivered his first Budget on 10th March 2020.


As expected the announcement was rightly dominated by support and stimulus to tackle Coronavirus (COVID-19) with the Chancellor opening his speech highlighting his fiscal response to the outbreak. A £30 billion Coronavirus (COVID-19) package was unveiled, which included £5 billion for an emergency response fund for the NHS and public services, and statutory sick pay extended to cover individuals advised to self-isolate and to people caring for those who display Coronavirus (COVID-19) symptoms. Support for small businesses was given, with the government promising to refund the costs of statutory sick pay, and a temporary Coronavirus (COVID-19) Business Interruption Loan Scheme offering loans of up to £1.2 million. For retail, leisure, and hospitality businesses with a rateable value of under £51,000, business rates will be abolished for the 2020-21 tax year. Those not eligible for this relief will be offered £3,000 cash grants.


Two emergency measures were also announced to provide additional assistance through the welfare system in response to Coronavirus (COVID-19). The minimum income floor will be temporarily removed for self-employed Universal Credit claimants who are affected or choose to self-isolate, and the waiting period for contributory based ESA will be temporarily removed. Furthermore, sanctions will not be made for not attending appointments as long as a coach is informed in advance.


Community Housing Cymru welcomes the emergency announcements to widen access to financial support through the welfare system, but we would urge further action to prevent unnecessary hardship caused by sanctions during this unprecedented time.


How will the Budget affect Wales?


An extra £360 million was promised to the Welsh Government by Rishi Sunak. This includes a 5% uplift in Barnett consequential agreed as part of the Welsh Government's fiscal framework in 2016.


Business rates are devolved, so the announcements mentioned in relation to businesses rates will only be valid in Wales if the Welsh Government matches these measures. The First Minister Mark Drakeford has stated that all funding coming to Wales from the UK Government's Budget announcement on non-domestic rates will be used to support businesses, but confirmation from the Treasury will be needed before doing so.


The Chancellor recognised that Coronavirus (COVID-19) is not the only challenge facing the UK, and set out a number of plans to support public services. The NHS Settlement was re-announced, which saw an additional £34 billion per year by 2023-24 while an extra £750 million of funding was announced for the recruitment of additional police officers.


In terms of housing, the government committed to creating at least 1 million new homes in England by the mid-2020, £12.2 billion for an Affordable Homes Programme, and £1 billion for a Building Safety Fund to remove unsafe cladding from residential buildings above 18 metres. Although these figures will apply to England only, under the Barnett formula, any change in spending levels in public expenditure in England will be adjusted to reflect that allocated to Wales.


Specific announcements to Wales included £55 million for a Mid-Wales City and Growth deal, a commitment to develop the A483 bypass in Pant-LLanymynech, a £50 million package for accessibility improvements at railway stations, with the station in Newtown included, and £15 million for S4C. £5 billion has been committed to support the rollout of a gigabit-capable broadband to benefit rural areas, and £2.6 billion to support flood defences in areas at risk.


Overall, the budget provides additional funding of £122 million revenue, £239 million capital and £3 million Financial Transaction capital in 2020-21. The amount of additional capital available to invest in infrastructure in Wales in 2020-21 is £140 million.


Rebecca Evans, Minister for Finance and Trefnydd has called on the UK Government for clarity on what these announcements mean for Wales, and particularly on the UK government's plan for a Shared Prosperity Fund given that current EU funding is due to end this year.


With extra funding promised to Wales, Community Housing Cymru would now like to see the Welsh Government act on their promise to prioritise additional spending for the Housing Support Grant, which funds crucial services to tackle homelessness in Wales. Further investment is also needed to support housing associations to build 75,000 zero-carbon affordable homes and create 50,000 jobs by 2036.