Mental health and wellbeing now integral to life at Trivallis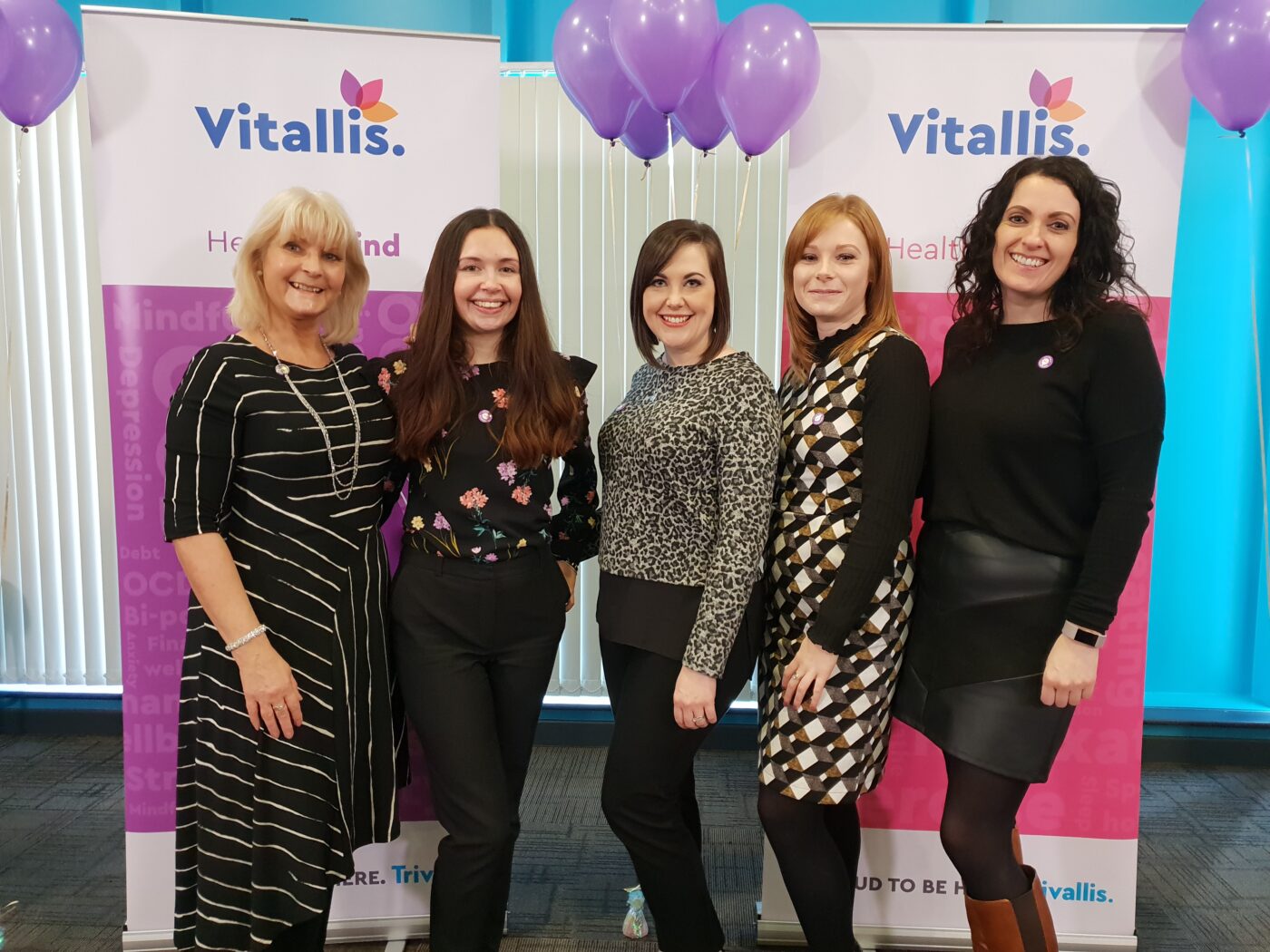 Mental health, wellbeing and work-life balance are topics frequently hitting the headlines and discussed on social media, as people pay increasing attention to the importance of maintaining good health and making better lifestyle choices.
With long-term sickness absence at an all-time high because of personal stress, work-related stress, anxiety and depression, Trivallis took on a challenge and looked at ways to proactively tackle mental health within their organisation. Agreement from the executive leaders was given to pilot a new staff group designed to invest in the health and wellbeing of the current and future workforce.
Working within the Human Resources and Learning Development teams at Trivallis, Beth Evans and Samantha Graf recognised the importance of embedding wellbeing within the organisation and therefore, championed this responsibility. By calling upon the knowledge and skills of other passionate members of staff, in just a few months, Vitallis was born.
Samantha, HR Business Partner at Trivallis says:
"In the first year, we focused on establishing the brand of Vitallis, and letting staff across Trivallis know what was being offered. We focused on one main goal; showing the importance of having a healthy mind, healthy body and overall healthy you.
"We already knew that most of the long-term sickness here at Trivallis is a result of mental ill health. Once we realised we wanted to offer more to staff to support their mental health and wellbeing, we needed to consult with staff to help us identify our areas of focus.
"12 people have been appointed mental health first aiders, while over 120 members of staff took part in various mental health based activities, and we were overjoyed to be awarded Bronze in Mind's Wellbeing Index. These success stories help show how we are being more proactive in supporting staff to make changes."
Beth, Learning and Development Business Partner adds:
"There's been a definite shift in thinking over the last 18 months since introducing Vitallis. We have nearly 500 members of staff, with almost half of them working remotely, so tackling issues around isolation, and making everyone feel like part of the Trivallis team has been a priority.
"To show staff how committed we are to making a real difference to their mental health; Chief Executive Ian Thomas, publicly signed the Time to Change Wales pledge in January 2019 and we have developed a bespoke development programme for all Trivallis Leaders focussing primarily on; wellbeing, mental health, coping mechanisms and supporting others effectively. We felt it was important to equip our leaders with these skills initially to empower them to act as role models for wellbeing, and we now plan to provide a similar programme for all staff later in the year.
"To encourage staff to have a healthy work life balance, we have made social events a key part of life here. Each Thursday evening for example, we have touch rugby, we hold summer and Christmas parties, theatre and Christmas shopping trips and arrange wellbeing walks. The next one will take the more adventurous hikers to Ystradfallte Falls, while others can have a more leisurely stroll around Pontypridd Park.
"Vitallis is led by representatives from across different teams to make sure we organise a range of activities, events and training."
Samantha says:
"We have been lucky to receive the support of our executive team, who are equally committed to changing the way we work at Trivallis. Vitallis is more than just offering fresh fruit to staff, it is now an integral part of our workplace, and we want colleagues to feel encouraged by the fact we listen to what they want and make changes to improve their overall wellbeing."
Find out how you can incorporate mental health and wellbeing into your organisation with CHC's tailored training course delivered by i-act. Find out more
here
.