FamilyPoint Cymru is here for you!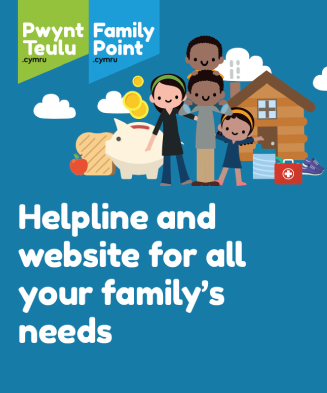 Trying to support families with complex issues but don't know where to point them?
Trawling the internet for help but getting nowhere? Not enough hours in the day to find families what they need?
FamilyPoint Cymru
is here for you!
There are a lot of great services for families in Wales, but from talking to parents and carers we found that many of them struggle on their own without knowing what help is available to them. We've also talked to professionals who have told us that sometimes they just don't have the time or expertise to deal effectively with all the problems that families present.
FamilyPoint Cymru is a bilingual helpline, news hub, information source and a platform for parents and carers to have their say. Funded by the Welsh Government as part of the Tackling Poverty agenda its aim is to ensure that families most in need don't miss out on essential services and support.
The website brings together the key Welsh Government services and organisations that deliver support services in one place making it easy to find what you need. Whether you're looking for housing, health or money you'll find contacts, opening hours and details of what they offer on your local county page.
Our articles are based on what families tell us they need. We cover everything from explaining Universal Credit and Parental Responsibility to money saving tips on holidays, family activities, ideas for cheap birthday parties and picnics. Parents often send us their personal stories and offer peer-to-peer advice. All our information and articles are bilingual and written in family-friendly language. We use videos and images to make complex information more accessible.
The FamilyPoint Cymru helpline can be accessed via phone, text or online chat. Parents can also write into our 'A Problem Shared..' section for advice.
Our advocacy-trained helpline advisers will assess their problem, help them work out what they need and let them know what support is available to them. Professionals can also contact our helpline if they are looking for information for a parent or carer.
We know that finding the right source of support and information can take time. That's where FamilyPoint can step in. We have time to listen to families, work out what they need then point them in the right direction.
To find out more, visit
www.familypoint.cymru
, email us at
[email protected]
or get in touch via our helpline: Phone – 0300 222 5757 / Text – 07860 052905